Having a hip replacement is not a simple decision. To get the best results you need to learn all you can about this major surgery and what you can do to help speed your recovery and prevent complications. We have put together the process from making a decision, following hip precautions, and living with your new hip with plenty of illustrations to learn from.
The information presented here—in timeline order—can help you learn what to expect when having a hip replacement from planning through recovery.
If you have questions after going through this information or the information brings up questions for you write them down and contact your surgeon.
Hip Replacement Recovery Time Table
Below is a general time frame for surgery and recovery from hip replacement. Depending on your overall health, your recovery time may be different.
Day 1 – Surgery
Day 2 – Eat a regular diet
Day 3 – Get out of bed with help
Day 3 – Use walker or crutches without help
Day 3 – Walk stairs without help
Day 4-7 – Go home from hospital
Day 10-14 – Removal of stitches or staples
Week 3 – Incision swelling and bruising gone
Week 5-7 – Drive a car
Week 6-8 – Walking for exercise
Week 10-12 – Light sports like swimming or cycling
Week 4-12 – Return to work depending on the physical demands of your job
Additional Information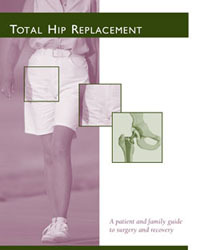 Because hospital and health care budgets are shrinking Media Partners has decided to make this information available online. Much of the information on our site is from the booklet Total Hip Replacement: A patient and family guide for surgery and recovery by Media Partners, Inc. We hope this helps with tight education budgets. The booklet is still in print and available for purchase from Media Partners.