Anterior Cruciate Ligament Reconstruction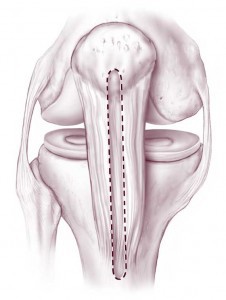 In a typical ACL reconstruction, the torn ACL is removed. Then the type of graft to be used is determined. The most common tendon for the graft is the patellar tendon—which connects the kneecap to the shinbone. About one third the width of the patellar tendon is harvested, along with a plug of bone attached at each end of the graft. The bone plugs are then rounded and smoothed. Holes are drilled in each bone plug to hold the sutures that pull the ligament graft in place. The knee is then prepared to accept the new graft. The intracondylar notch is enlarged, called notchplasty, to eliminate rubbing on the graft. Once this is done, holes are drilled into the tibia and femur. These holes allow the new graft to run between the tibia and femur in the same direction as the actual anterior cruciate ligament. The graft is pulled into place using sutures laced through the drill holes. Screws are put in the drilled holes to hold the bone plugs in place.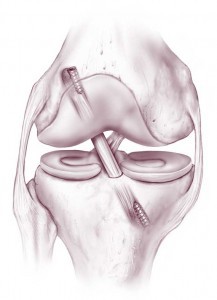 In some cases, rather than harvesting the graft from your patellar ligament, a hamstring tendon or an allograft is used. An allograft ligament is one that comes from someone else—usually taken from the cadaver of an organ donor. Before the cadaver allograft ligament is used, it is tested for infection, sterilized, and stored frozen. The advantage of using allograft is your surgeon doesn't have to remove graft tissue from your knee, your surgery usually takes less time and your healing is quicker.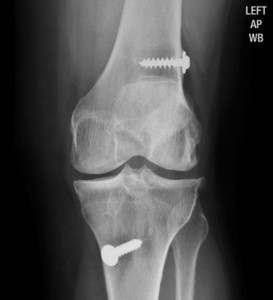 Knee Rehab and Physical Therapy
Two to 3 days after surgery, a physical therapist will begin your knee rehabilitation program and partial weight bearing using crutches for the first 7-10 days. You'll probably have some type of rehabilitation for 6 months after surgery to ensure the best results from your Anterior Cruciate Ligament Reconstruction. The first 6 weeks following surgery expect to see the physical therapist about three times a week. Following the initial period, you may be placed on a home program and your progress monitored by your physical therapist.  In addition to rehab exercises in the gym, you will have daily exercises to do at home to help you get back movement and strength in your knee.

In addition to physical therapy, a continuous passive motion machine will be used to reduce stiffness and prevent loss of range-of-motion. It typically takes about 9 months for the ligament to heal. Until your surgeon says otherwise, avoid contact sports, tennis, skiing, martial arts as well as sports that require quick changes in direction like basketball, football, tennis and soccer.
The Goals of Knee Rehab
The goals of rehab after surgery are to control swelling and pain in your knee, protect your knee, get good movement and strength back in your knee, and to get back to doing the things you did before your injury. Be sure both your doctor and physical therapist know the level of activity you want to return to. If your goal is to return to a specific sport, make sure your rehab exercises are geared toward returning to that sport.
When patients stick to their rehab program, most are able to return to activities like jumping, running, and skiing.
Questions to Ask Your Surgeon
• Should I take my daily medicines before surgery?
• How much pain can I expect after surgery and how will it be controlled?
• Will I be on crutches, a walker or a cane? For how long? Where can I get these? Should I get them before surgery? Should I bring them to the hospital with me?
• Will I need a brace? For how long? Where do I get one? Should I get it before surgery? Should I bring it to the hospital with me?
• How soon will I be able to drive?
• How soon until I can get back to my normal activities like going back to work?
• How soon until I can get back to more strenuous activities like sports or exercise?
Write down the answers so you don't forget.
Before Going For Knee Surgery
You should learn more about outpatient surgery and arthroscopy before you have surgery. Also learn about what you should do prior to surgery. For instance, there are certain medicines that you should not take before surgery, learn about the kinds of anesthesia used for your surgery. Also, find out about your insurance benefits so you know what you will have to pay for and what will be covered by your insurance. You may need assistive devices after your surgery Like a cane, walker, or brace. So check with your insurance to see if these are covered and how much of the cost must be paid for by you. You should also find out where you can get these items. You can look in your local phone book or search online for durable medical equipment. You might even ask friends or relatives if they have one you can borrow.
And finally, learn about recovery after outpatient surgery. Knowing what to do and when to call the doctor when you gets home is very important and can give you peace of mind.