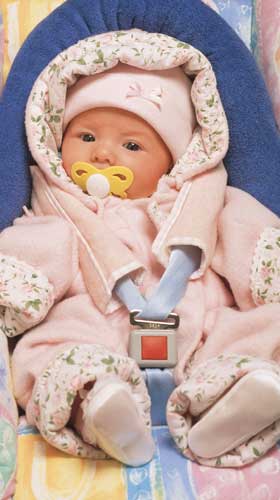 For the first month, about the only time your newborn needs to be out and about is his ride home from the hospital, and his ride to your pediatrician's office for a weight check or his first check-up. If you want or need to go out, try to find someone to stay at home with your newborn. If you take your newborn out in the car make sure you put him in his car seat every time he rides in the car—It's the law.
Automobile crashes are the most common cause of injury and accidental death of children. It is now the law in every state that infants must ride buckled-up in an approved car seat. In an accident, a properly used car seat can keep your baby from being thrown from the car or into the windshield or dashboard.
Check the label on your baby's car seat to make sure it meets the current federal safety laws. Your baby must ride in an approved car seat until he is 4 years old and weighs 40 pounds. Most hospitals will not allow a newborn to leave the hospital unless he is safely strapped in an approved car seat.
An infant car seat is made so that babies ride facing backwards toward the rear window. Your baby should ride facing backwards until he is old enough to sit up and hold his head up, and weighs more than 20 pounds.
•  The center of the back seat is the safest place for your baby's car seat; an infant facing backwards in the front passenger seat can be hurt or killed by the force of an opening air bag.
•  Roll up small towels and place them between your newborn and the sides of the infant car seat for comfort and support; do not use blankets in front of his chest or lap.
•  Cover your baby's car seat with a blanket or towel whenever you and your baby leave the car. Metal and vinyl parts of the car seat can heat up in the sun causing discomfort or burns.
•  Never leave your baby alone in a parked car, even for "just a minute." In warm weather, temperatures can reach dangerous levels quickly.
•  Never use a travel bed or an infant carrier as a car seat.
• Never place the car seat with your baby in it on a high place—like a counter—and walk away.
•  Make sure his car seat is properly strapped in the car. Then safely strap your baby in his car seat every time you go out in the car, even for short trips. There should be no slack in the shoulder straps—not even enough for one finger. Make sure to use the locking clips correctly.
•  Never let anyone hold your baby in their lap while riding in a car.
•  Make sure strong sunlight is not shining into his face while he rides.
•  Fasten your own seat belt!
Taking your baby outside
If the weather is nice, it's okay to take your newborn outside. Make sure he is dressed for the weather and his head and skin are protected from the sun and wind. Avoid using sunscreen or insect repellant; they can irritate his skin. If you must take your baby out in the cold or rain, you can protect him and keep him warm by putting him in a front carrier pouch and wrapping an oversized coat or large cape around him and you.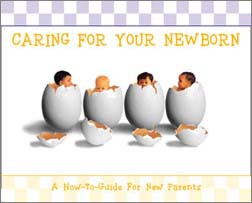 Caring For Your Newborn
Table of Contents
Introduction
Congratulations!
Caring Begins at Birth
Your Newborn's Hospital Check-up
Ten Fingers and Ten Toes
Special Care for Your Newborn
When Your Newborn Cries
Changing Your Newborn's Diaper
Feeding Your Newborn – breast or bottle feeding
Feeding Your Newborn – spit ups, weight gain, BMs
Bathing Your Newborn
Dressing Your Newborn
Shhh!! We're Sleeping
Keeping Your Baby Safe
Your Newborn's Admirers
Taking Your Newborn Out
If Your Newborn Gets a Cold
If You Have Questions
Well-baby Check-ups
When to Call Your Pediatrician
Take Care of Yourself, Too