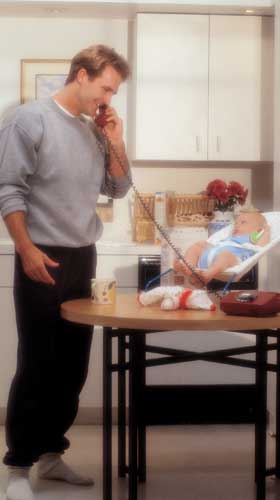 The time between coming home from the hospital and your baby's first check-up is not a test for you to pass without help. If you have questions during this time and are worried about your baby or about how to care for him, talk with your pediatrician. If your questions are not urgent and can wait until your baby's check-up, write them down and keep a list. Then bring the list of questions with you to your baby's check-up and go over the list with your pediatrician. Don't be afraid to ask about anything that you don't understand. If you don't understand an answer, ask the doctor or one of his assistants to clarify it for you.
If you are worried about your baby, call your pediatrician. If possible, call during regular office hours so that your pediatrician will have access to your baby's medical records. Be prepared before you call. Have paper and pen handy so you can write what the doctor wants you to do. If you have given your baby medicine, have the bottle with you when you call in case the doctor has questions about it.
You can help your pediatrician understand your concerns better and solve any problems more quickly if you can answer the questions he is most likely to ask. You may know the answer to many of his questions because of the reason you're calling; however, he may ask some questions which seem unrelated to your concerns, but he needs to know. Below is a list of questions you should be ready to answer when you call your pediatrician.
•  What is it that you are worried about? Be able to give some details.
•  What is your baby doing, or not doing, that is causing you to worry?
•  What is your baby's temperature? Was it taken under-arm or rectally?
•  Has there been a change in your newborn's feeding habits? Is he feeding more or less than he has been?
•  Has there been a change in your newborn's sleeping habits? Is he sleeping more or less than he has been?
•  What things have you already tried to relieve or soothe your newborn?
•  Has your newborn been around anyone who is sick?
•  Have you given your newborn any medicine? If so, what is the name of the medicine? How much and how often have you given it to him? What time was it when you last gave him the medicine?
After hearing your answers, your pediatrician will reassure you that your baby is fine, have you bring your baby into the office, or give you instructions for his care. Write down any instructions the doctor gives you, so you won't forget. Be sure to include:
•  What should happen when you follow the doctor's instructions.
•  If you should call back to let the doctor know how your baby is doing.
Read the instructions back to your doctor to make sure you understand what he has asked you to do.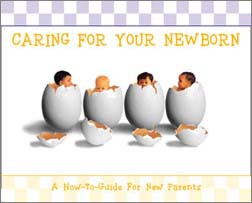 Caring For Your Newborn
Table of Contents
Introduction
Congratulations!
Caring Begins at Birth
Your Newborn's Hospital Check-up
Ten Fingers and Ten Toes
Special Care for Your Newborn
When Your Newborn Cries
Changing Your Newborn's Diaper
Feeding Your Newborn – breast or bottle feeding
Feeding Your Newborn – spit ups, weight gain, BMs
Bathing Your Newborn
Dressing Your Newborn
Shhh!! We're Sleeping
Keeping Your Baby Safe
Your Newborn's Admirers
Taking Your Newborn Out
If Your Newborn Gets a Cold
If You Have Questions
Well-baby Check-ups
When to Call Your Pediatrician
Take Care of Yourself, Too