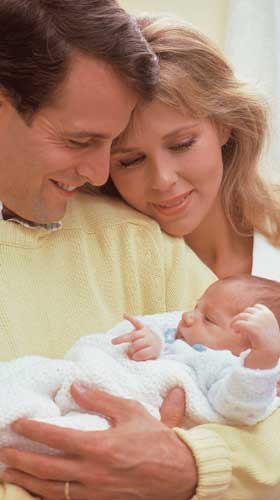 Babies aren't as fragile as they look. But they are easily hurt and must be protected from accidents. You can prevent many accidents from happening by following these tips all of the time.
Safety Tips for Babies
• Never leave your baby unattended on a changing table, the sofa, or a bed, even for one minute. Any sudden move made by your baby, such as the startle reflex, could cause him to fall.
• Never prop a bottle to feed your baby.
• Never leave your baby alone in a car, sink or bathtub.
• Never warm formula or breast milk in a microwave; this can cause hot spots that burn your baby.
• Use the safety straps on his changing table, or keep one hand on your baby at all times.
• Use diaper pins with safety shields; close them when not in use.
• Use cream or lotion instead of loose powder on your baby's bottom.
• Never shake your baby or toss him into the air, it may cause brain damage, blindness and death.
• Never let anyone else shake your baby. If your baby is in danger of being hurt by someone, call 911.
• Never put anything on a string around your baby's neck, such as a pacifier or a toy.
• Don't allow anyone to smoke around your baby; second-hand smoke can cause breathing problems for a newborn.
• Avoid hot drinks, like coffee or tea, while holding your baby.
• Set the thermostat on your water heater to 120° F (48.9° C) to prevent burns.
• Keep a working smoke detector in your home; test it twice each year.
• Keep a working carbon monoxide detector in your home if your home has a gas stove or heater.
• Check all clothing labels to make sure clothes are flame retardant.
• Always hold on to the hand rail when you carry your baby up or down stairs. It's easy to trip and lose your balance.
• Keep up-to-date on all new safety standards from companies that make the brand of baby equipment, toys, clothes, or other products you use.
Your baby's crib
Your baby's crib should be a safe place for your newborn where she can be left unattended for a little while. Don't forget to lay her in her crib on her back when she will be unattended. Always be within hearing distance or use a baby monitor. When getting a baby crib, make sure it meets all of the following safety standards:
• all paint is lead free and is not peeling
• all edges and corners are smooth. If there are finials or corner posts take them off or cut them off and sand down the rough edges.
• the mattress is firm and fits the crib without gaps—replace the mattress if you can fit 2 fingers between the mattress and the frame. Zippered mattress covers work best.
• the slats/rails are no more than 2-3/8 inches apart and there are no cutouts in the headboard or footboard for your baby's head to get caught
New cribs sold today must meet all safety standards. If you get a used crib, consider buying a new mattress, make sure the crib meets safety standards (one made after 1985 should be OK) and has not been recalled. Whenever you leave your baby in her crib, always check to make sure the side rails are up and locked in place. Never use cushions, quilts, pillows, comforters or soft, pillow-like products in the crib.
Baby Swings
Baby swings and rockers are generally safe. But take care that they aren't made in a way that makes the child flip over or move to an area that would interfere with breathing.
Car Seats
Thankfully, there are strong regulations that force infant seat manufacturers to maintain high safety standards. However, it is still a good idea to compare safety feature across car seats and travel systems. One thing to check for specifically is how difficult it is to get a child out of a site in an emergency.


Caring For Your Newborn
Table of Contents
Introduction
Congratulations!
Caring Begins at Birth
Your Newborn's Hospital Check-up
Ten Fingers and Ten Toes
Special Care for Your Newborn
When Your Newborn Cries
Changing Your Newborn's Diaper
Feeding Your Newborn – breast or bottle feeding
Feeding Your Newborn – spit ups, weight gain, BMs
Bathing Your Newborn
Dressing Your Newborn
Shhh!! We're Sleeping
Keeping Your Baby Safe
Your Newborn's Admirers
Taking Your Newborn Out
If Your Newborn Gets a Cold
If You Have Questions
Well-baby Check-ups
When to Call Your Pediatrician
Take Care of Yourself, Too