Table of Contents
Total Knee Replacement: a patient and family guide for surgery and recovery
Expert Advisors: Wanda Ruth McDaniel, CNP, Thomas O. Sturkie, MD, Orthopedic Surgeon
Copyright 1996; 1997; 1999; 2005; 2010 Media Partners, Inc. All rights reserved—no part of this book may be reproduced. This booklet has been filed with the U.S. Copyright Office. Be sure to read our disclaimer and copyright notices at the bottom of this page.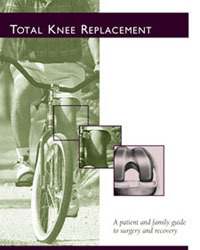 Thousands of Total Knee Replacement booklets are purchased by hospitals and doctors across the U.S. to give to their patients. These booklets are used in knee replacement preparation classes and by nurse educators. Because hospital and health care budgets are shrinking, Media Partners has decided to make the information available online. We hope it helps with tight education budgets! Media Partners, Inc.
In addition to learning about knee replacement surgery, you can learn about knee anatomy. This will help you to better understand the surgery.