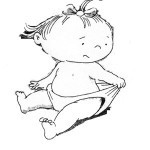 When your baby begins to eat pureed foods, the consistency and color of her bowel movements will change. Prior to the introduction of foods, breastmilk stools are typically liquid, yellow, and seedy. Formula stools can vary in texture, and range in color from yellow, brown, or green. Once first foods are offered, the stools often become more formed and smellier. Fruits and vegetables such as berries, beets, carrots and spinach are likely to cause a change in color.
These stool changes are normal, and are to be expected. Among older infants, table foods may "come out" looking at lot like they did when eaten. The larger food pieces may not have been fully digested or chewed well. You may want to hold off on offering these foods, and try them again when your baby has more teeth. Feeding your baby large pieces of food too soon could also result in a choking accident. If your baby develops diarrhea with blood or mucous or seems to have stomach upset after eating a specific food, discontinue serving it, then speak to your pediatrician. These symptoms could be a sign of a food allergy.
Diarrhea is a stool that has the consistency of water. It may have a faint yellow or green color, and a foul odor. In most cases, this is a sign of an illness. Viruses are the most common infectious cause of diarrhea in the U.S, but it may also be due to exposure to a bacteria or parasite. If your baby has more that two or three consecutive watery stools, your baby is at risk of becoming dehydrated. It is best to call your pediatrician.
There are certain stool colors that warrant a call to a doctor if they appear at any age:
White (acholic) stools – Stool color is the result of bilirubin which forms in the liver. The absence of color could be a sign of a liver problem.
Red stools – Stools that have streaks of read on the surface indicate bleeding from the large intestine, rectum, or anus. A normal cause of this could be a fissure that occurs while passing a hard stool.
Black stools – After the newborn period during which meconium changes to milk stools, black-colored stools are abnormal. They are a sign of bleeding in the upper GI tract.
More About Starting Your Baby on Solids Foods
• When should I offer solid foods and what should those foods be?
• Is Your Baby Ready to Try Solid Foods?
• Changes in Bowel Movements
• Feeding Himself
• Shopping For Baby's Food
• Your Baby's Menu
• Food Supplements
• Food Allergy or Food Intolerance?
• Preventing Poisoning and Choking

How and When to Start Foods
The American Academy of Pediatrics recommends starting first foods between ages four to six months. Your baby is ready for pureed foods when she:
• can sit up with a little support
• has good control of her head and neck
• is at least 4 months old, and isn't satisfied by milk feedings alone
• leans forward or opens her mouth when she sees a spoon

Although baby cereal is often the first food parents offer their baby, the AAP and CDC do not recommend a particular food introduction order. By six months, most infants need more dietary iron, and cereal is an easy way to provide this nutrient. Because of the concern for arsenic contamination in rice, other grain cereals are better options. Add about one tablespoon of baby cereal to a bowl, then add breastmilk or formula until the texture becomes a loose paste. It should be fed with a spoon, and not added to a bottle. Place a small amount of cereal onto the middle of her tongue. Until she has had a little practice, expect it to be pushed out. Just catch it with her spoon, and offer it again.
Offer pureed foods when your baby is calm and in a happy mood. If she refuses a particular food, try a different one. Some infants don't initially like the grainy texture of cereal. It can be re-introduced at a later time.