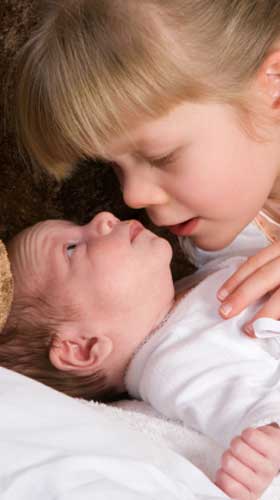 Until your baby is 2 months old, any type of infection can be very serious. Until then, newborns have very little resistance to germs. Protect yourself and your newborn from anyone who has a contagious disease. A contagious disease is one that spreads through touch. Knowing how a disease spreads is important. If one of your baby's admirers has touched someone who has a contagious disease, they could spread it to your baby by touching him while the germs are still on their hands. To help prevent germs from spreading to you and your baby, make sure everyone is washing their hands before they handle your newborn.
The following are tips and steps for proper handwashing.
1. Wash your hands for at least 30 seconds in warm water and with soap. Point your fingertips toward the bottom of the sink. Keep your hands lower than your elbows so the soap, water, and germs run down the drain, not down your arms. Small children may need to stand on a stool.
2. Pay special attention to your fingernails, between fingers, and areas that look dirty.
3. Don't touch anything while washing your hands.
4. Rinse your hands and wrists well, then dry them with a clean towel. Paper towels are best because they can be thrown away.
5. Use the towel to turn off the water; don't touch the faucet with your clean hands.
Young Children (other than siblings): It's OK for healthy children to visit your newborn. If they have signs of infection, such as a runny nose, fever, or tummy ache, let them know they can help you keep your baby well by visiting him when they are well. Never let your baby come in contact with children who have a contagious disease such as measles or chicken pox.
Teach children how to wash their hands before touching your baby. Never leave your baby alone with young children; they may hurt him without meaning to. Never let a small child feed or pick up your newborn. They may drop him because they don't know how to put him down.
Visitors: Avoid contact with family members or visitors who have infections or who have been around someone who has an infection. Never let anyone with a fever visit, hold, or touch your newborn.
Pets: Be careful when pets are around your newborn. Don't leave your baby alone with pets or near pets. Pets may scare your baby or see him as competition for your affection. Make sure pets do not get into the crib with your baby.
Crowds: Avoid large crowds such as the supermarket or shopping mall for the first month or so. The more people your baby is exposed to, the more likely it is that he will come in contact with someone who is sick.
Baby Gear: Wash or wipe down your car seats, swings, stroller wagon, portable bouncers, diaper bags and anything that is out and about, in contact with other people.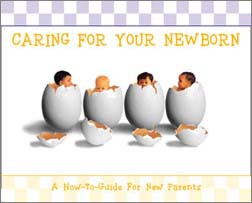 Caring For Your Newborn
Table of Contents
Introduction
Congratulations!
Caring Begins at Birth
Your Newborn's Hospital Check-up
Ten Fingers and Ten Toes
Special Care for Your Newborn
When Your Newborn Cries
Changing Your Newborn's Diaper
Feeding Your Newborn – breast or bottle feeding
Feeding Your Newborn – spit ups, weight gain, BMs
Bathing Your Newborn
Baby Gear – car seats
Dressing Your Newborn
Shhh!! We're Sleeping
Keeping Your Baby Safe
Your Newborn's Admirers
Taking Your Newborn Out
If Your Newborn Gets a Cold
If You Have Questions
Well-baby Check-ups
When to Call Your Pediatrician
Take Care of Yourself, Too