Did you know that kids spend about 4-6 hours every day sitting in front of a screen? Considering kids get home from school about 3 o'clock and go to bed around 9—that means they may be watching TV, be on the computer or playing video games from the time they get home until they go to bed! No wonder we have an obesity problem today. Parents are almost as bad about inactivity when they get home from work. Now is the time to get up and get movin'. Below is a list of 101 Screen-Free Activities you can do when the TV, computer, cell phone, Xbox, and Playstation are finally turned off. So get your family motivated and tackle a few activities on the list.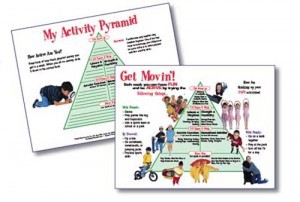 We'll even help you out. Download our Get Movin' Activity Pyramid and see which activities you should do more of and which you should do less of. There's even a blank pyramid that you can fill in with activities you do every day. Can't think of anything to do? Here are some great ideas of things to do by yourself or with the family. Now Get Movin'!
Great resources here too.
Activities You Can Do at Home
• Listen or, better yet, dance to the radio.
• Write an article or story.
• Paint a picture, a mural, an accent wall or a room.
• Write to the President with some ideas you have for making life better in the US.
• Read a book. Read to someone else like a little brother or sister.
• Learn to change the oil or a tire on your car. Fix something. Wash your car.
• Write a letter to a friend or a relative. Write a letter to a soldier in the hospital.
• Wash your car.
• Read magazines or newspapers. Swap them with friends. Look for healthy activities to do.
• Go through your closets and donate items to Goodwill.
• Have a garage sale.
• Start a diary/journal.
• Play cards or board games.
• Make crafts to give as gifts. Try a new craft.
• Do a crossword puzzle.
• Save money! Cancel your cable or satellite TV!
• Learn about a different culture or country.
• Make an international dinner. Go to the grocery store and buy what you need.
• Teach your kids some of your favorite childhood games.
• Study sign-language.
• Write a letter to your favorite author.
• Cook dinner with friends and family.
• Make cards for holidays or birthdays.
• Play chess, bridge, or checkers.
• Play charades.
• Repair or refinish a piece of furniture.
• Make a wooden flowerbox.
• Wake up early and go for a walk. Take the dog with you!
• Read a favorite poem.
Activities You Can do Around Town
• Attend a community concert in the park. Listen to a local band.
• Go to the library. Borrow some books.
• Go to a local bookstore or the mall.
• Go to the zoo or the acquarium.
• Visit the countryside or town. Travel by bus or train.
• Go to church.
• Look for treasures at a yard sale. Have a yard sale.
Things You Can Do Outside
• Learn about the trees and flowers in your yard or neighborhood.
• Plan a picnic or barbecue.
• Go bird watching. Learn names of local birds.
• Walk the dog. Wash the dog.
• Plant a garden. Work in your garden.
• Take a nature hike.
• Feed fish or birds.
• Watch the night sky through binoculars. How many starts or planets can you name?
• Learn how to use a compass.
• Take photographs and then make a scrap book.
• Do yardwork. Rake leaves. Pull weeds.
• Go camping. Put up the tent in your back yard.
• Take an early morning walk.
• Climb a tree.
• Watch a sunset; watch the sunrise with a friend.
Get Moving!
• Go roller skating or ice skating.
• Go swimming. Join a community swim team.
• Start a community group that walks, runs, or bikes.
• Go for a bicycle ride.
• Learn yoga.
• Play soccer, softball, or volleyball.
• Play frisbee.
• Workout at home or go to the gym.
• Go dancing. Take a dance class.
Things You Can Do for Your Community
• Organize a community clean-up or volunteer
for charity.
• Become a tutor.
• Join a choir. Sing!
• Start a bowling league.
• Visit and get to know your neighbors.
• Start a book group.
Parents — Activities You Can Do With Your Kids
• Make paper bag costumes and have a parade.
• Design a poster with top 10 no-screen activities.
• Discover your community center or local park activities.
• Blow bubbles.
• Color the black and white funny papers.
• Build a fort in the living room and camp out one night.
• Research your family history and draw a family tree.
• Invent a new game and teach it to your friends.
• Make a 'No-TV' sign to put in front of the TV screen.
• Play hopscotch, hide & seek, red rover, or freeze-tag.
• Organize a neighborhood scavenger hunt.
• Play board games.
• Clean-up or re-decorate your room.
• Make puppets out of old socks and have a puppet show.
• Write a play with friends. Perform it at a nursing home.
• Build a kite. See if it will fly.
• Go on a family trip to see grandparents or historical site.
• In the snow, go sledding or make a snowman.
• Create a collage out of pictures from old magazines.
• Shoot hoops with friends.
• Make a friendship bracelet.
• Draw pictures of members of your family.
• Tell stories around a campfire.
• Plan a slumber party.
• Create a low-calorie dish from an old recipe.
• Make a miniature boat and float it on water.
• Write a letter to your grandparents. Make them a special card.
• Create sidewalk art with chalk.
• Everyone!! Have a huge party to celebrate no TV!
• Try out for a play. Go to a play.
• Collect recycling and drop it off at a recycling center.
• Learn to play a musical instrument.
• Go to a museum.
See there are lots of fun things you can do for entertainment than sit in front of the TV! You'll feel better and may learn something, too!